Rhapsody
Your Perfect Valentine's Day Gift
Lush instrumental arrangements of favorite love songs and ballads and movie themes, featuring the passionate violin of Gary Schnitzer and his ensemble. Rich lyrical violin supported by silken piano tones, rich double bass, and soft percussion. Here is your ultimate Valentine's Day gift!!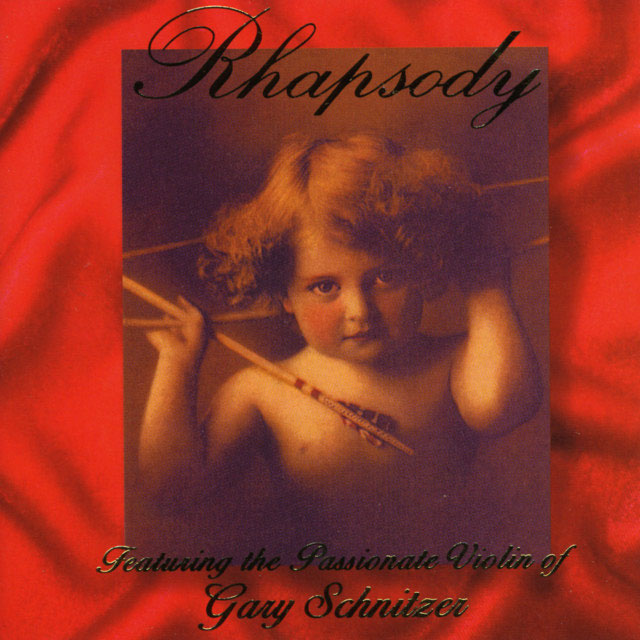 Let us bring you and yours to another place with sultry renderings of some of the most beautiful love songs of all time…passionately played by violinist Gary Schnitzer and his ensemble. If dark, rich chocolate could sing, you would hear the resounding tones of "Rhapsody". "Rhapsody" is a perfect background soundtrack for romancing your sweetie on the couch after dinner, OR, to relax to with a glass of wine after coming home from work, OR to fall asleep to.
"Rhapsody" is also popular with massage therapists for use while massaging their clients. The emotional romantic sentimemtality of the playing on this CD also makes it the perfect CD to put on when you are in the mood for a good cry. "Rhapsody" is a sultry, soulful rendering of popular romantic standards from the 30's, 40's, and 50's, as well as from more contemporary shows like "Phantom of the Opera". Impellingly seductive, this recording moved one listener to remark that Gary Schnitzer was the "Pied Piper of Violinists".
This beautifully packaged CD makes an endearing gift, especially for Valentine's Day! The gift for romance or for no reason at all.